I'm pretty sure most of my readers already know by now I've been reviewing homeschool products for the TOS Homeschool Crew. Well this next review is not about a homeschooling product but every homeschooling family I know need this all the time. What is that you may be wondering? Why it's meals to eat of course. LOL

Are you one who hates to cook? Do you struggle knowing what to fix for dinner each day? Does the thought of menu planning make you feel exhausted? Are you wanting to feed your family nutritious meals but need some help? I just may have that solution for you. There is a company that wants to help you "free up your brain, your budget, and your family time in a revolutionary way".

The goal of
E-mealz
is to "take dinner menu and money planning stress off your plate". How you may ask? Well it's as easy as 1-2-3. Here's
how it works
:
1. You choose a plan.
There are over 28 different plans to choose from like regular family meal plans or, the specialty family meal plans. Each of these are 7 days worth of plans that will feed 4-6 people. They also have meal plans for two, and specialty meal plans for two. Each of these are 5 days worth of meal plans that feeds 1-2 people. You may be wondering what is meant by specialty. That is meal plans for people with special dietary needs like low fat, low carb, portion control, vegetarian, and gluten free. Another option for choosing plans is according to the store you shop at and their weekly sales for that week. These are stores like Aldi, Kroger, Wal-Mart, Publix, and Ralph's. If you don't live near these places or for any other reasons those are not options for you, they have "Any Store" plans as well. Each plan has a certain day of the week that it posts to the site. This is something you'll want to keep in mind. Also during holidays (ex: Thanksgiving and Christmas, ect.) they only have 5 days planned out instead of 7 on the family meal plans. You can
click here
to see partial samples of their plans.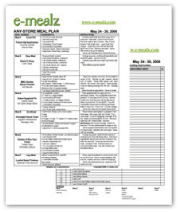 2. Now that you've chosen a plan you can print out your menu and list then go shopping. These are in PDF format so you can save it for printing later if you choose to. Quick tip: I save mine in a designated folder on my laptop titled "E-mealz". You don't have to worry about looking up recipes or writing out a list of things you will need. The plans come with all the recipes (main dish as well as side items to serve) on one page and an aisle-by-aisle grocery list on the other. So see you just print and go with no planning on your part. Another note here: I liked the fact that they keep the previous weeks plan up for downloading when they post the new plan for that week. This means you have two weeks to get a plan printed out before they take it down.
3. After you go shopping for the week all you have to do now is cook your meal according to the instructions on the plan and sit down to enjoy it with your family.
The cost for
E-mealz
is $5.00 a month. That's about a $1.25 a week. The way it works is you set up your payment by debit or credit card. They will automatically charge your account every three months for a total of $15.00. You can cancel at any time but you have to do it before it's time for your account to be charged for that billing period. One other thing you should know: if you don't like the meal plan you choose you can change it but only
once
during a three month period.
For my review I started off with the "
Any-Store Family Plan
". I figured it would be the easiest for me to make any adjustments and substitutions as needed for my family. Here is what this plan is about:
"The ANY-STORE meal plan is a complete, easy meal plan that is transferable to use at any store, anywhere. The mental work is done! Just print and go! The plan can be used at ANY grocery store ANYWHERE. It's economical, and family friendly."
For the past month I have enjoyed many of the meals from this plan. There were easy meals, on-the-go meals, easy grab and go meals, crockpot meals, meals that had something needing to marinate over night, ect. Now I have to tell you that I didn't always follow along with the plans as they were written. Some items on the list were a little to pricey for our budget and we also don't consume a lot of pre-packaged processed foods. I will list the names of the meals we had and some modifications I made to them. I have even taken pictures of some of the finished dinners that you can see below.
*
Swedish Meatballs
with Italian Green Beans, and Dinner Rolls= For this the meat I used was ground turkey and I made my own homemade gravy. We loved it and there was a little leftover for two people to eat for lunch the next day.
*
Apple Baked French Toast
with crispy bacon= For this meal they suggested buying a package of precooked bacon. I just cooked up my own bacon instead. We liked the new twist on French toast BUT...I decided when we try this again I will make French toast the way I usually make it then serve the cooked apples on top. There were leftovers for breakfast or a snack the next day.
*
Chicken and Rice Taco Fiesta
with tortilla chips and shredded lettuce= I used regular rice in this dish even though minute rice was suggested. I just used less rice than was called for. We loved this meal and there was plenty of leftovers for lunch the next day.
*
Open Meatball Subs
with chips= For this meal I didn't do the open faced version (see the pic above). I just did regular subs. I also did have any mozzarella cheese on hand so I used the Mexican blend we already had. This was a huge hit with us and will definitely try again. We loved the toasty bread with all the oozing cheese coming out of the hoagie bun.
*
Beef 'n Rice Mexi-Bow
l with tortilla chips and salsa= Again I subbed the beef with ground turkey. I also used 1/2 corn and 1/2 black beans because we like this combination. It was really good and just a bit of leftovers because my guy liked it way too much. :-)
*
Turkey Divan
with steamed rice and dinner rolls= I made this in the crockpot instead of the oven. There were plenty of leftovers. My 11 year old son didn't really care for the dish. He said the sauce was too cheesy and sour tasting. I loved it though.
*
Enchilada Pie
with yellow rice and Pineapple Kiwi Toss= As you see in the picture we didn't have yellow rice or the fruit toss. I had to use what was on hand that would go well with the meal. We LOVED this and I'll definitely be making this again. There were NO leftovers.
*
Savory Ham and Swiss Subs
with chips= I ended up using this as a lunch meal instead of a grab and go dinner. It was a huge hit and will definitely make it again.
*
Beef Zucchini Bake
with carrots and dinner rolls= I made this in the crockpot for 3.5 hours on low because I wanted to see if it would hold up well. I also used regular rice in place of the instant. Everyone loved it and said they would eat it if I made it again. There were plenty of leftovers.
As you can see we were pleased with most but I wanted to try another plan to see if it would better suit some of our dietary restrictions. The next plan I chose is the "
Any Store Gluten Free
" option. The reason is because we have plans to get our son tested for gluten intolerance (He is on the Autism spectrum). I haven't used any menus on that one yet because we're due for another shopping trip this weekend. Now I want to share what I think are the advantages and disadvantages of using
E-mealz
.
Advantages:
- Is
endorsed by Dave Ramsey
author of the "Total Money Makeover".
- You don't have to think about what to fix for dinner each night of the week.
- You don't have to make up and write out a grocery list.
- Shopping list categorized by aisles.
- Has some meal choices with pre-packaged foods for convenience and quick prep.
- A good variety of nutritious meals.
- You get to try out meals you may have not ever thought of trying before.
- There are choices for "On-the-Go", "Grab-and-Go", or crockpot meals.
- Most meals will leave you with plenty of leftovers for lunch the next day.
Disadvantages:
- Meals with pricey cuts of meats (my suggestion is to substitute where needed for this).
- Some items are more expensive to buy than what you may be used to paying (again substitute as needed).
- May not see the savings you are looking for in you food budget depending on where you shop.
- If you have a family full of very picky eaters the plans may not be a fit for you.
- If you are a family who eats mostly whole foods you may be disappointed by seeing lots of suggestions on the menu for pre-packaged/convenience foods.
- If you have various food allergies in your family you may have to make many adjustments or substitute a lot to accommodate for that. For instance: Even though you may be on a gluten free diet the menu doesn't take into account if you also need to eliminate dairy products as well. Many of the menus I saw had lots of dairy used in them.
All of this is to say that
E-mealz
may be the perfect fit for your family depending on your circumstances. All you can do is try it out and see what it can do for you, your family, and your budget. I didn't experience any difference in how much I spent at the grocery store but then again I am used to looking for the best deals and doing menu plans already. All in all I'm happy to have been given the chance to try out a plan like this. I got to try out some tasty meals I would have never thought to try before. You don't have to rely on my thoughts of this meal plan. Stop by and see what other
crew members
had to say of their E-mealz experience.
Disclaimer:
The views and opinions in this review are entirely my own. I was not paid to write this but received a 3 month subscription free of charge to review and give my honest opinion.