From time to time we love to listen to stories on audio. Not because we don't like reading books because reading is a regular part of our lives. I figure since my son has seen dad and I reading a lot of books, it has helped him develop a love of reading himself. I say this because when he's being really quiet we wonder where he is just to find him sitting on his bedroom floor or buried under his covers reading a book. During our school times he enjoys listening to books on audio so I try to throw some in the mix to change things up a bit when things are getting too routine (I take cues from him). We received an audio of real life stories to review that is planting seeds (messages) in his heart that will benefit him for the rest of his life.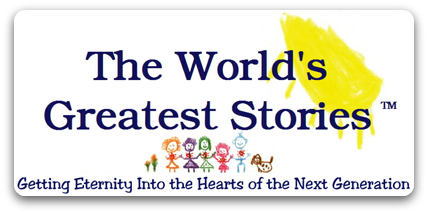 The World's Greatest Stories
are an "award winning series of Bible stories that has been brought to life through compelling storytelling by
George W. Sarris
". George Sarris is a professional actor, narrator and spokesman in New York City. He has a degree of Bachelor of Science in Speech from a University and a Master of Divinity from Gordon-Conwell Theological Seminary. He and his wife have 5 children.
The collection of
The World Greatest Stories
comes in 6 volumes and can be
purchased
for $7.95 each on cassette tape or CD in KJV or NIV versions of the Bible. The text for the stories is word for word from the Holy Bible. "They are told using the art of drama and carefully selected music and sound effects". This is for kids ages 4-12 but is great for the whole family to gather around and listen in.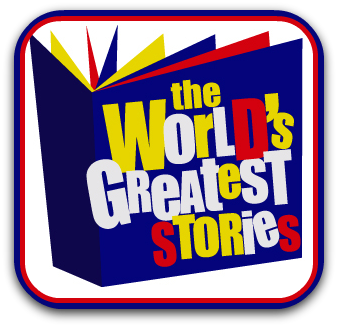 For our review we were given the
Volume 1: The Prophets
(NIV) on CD. The CD is an hour long but the stories are broken up into sections. The stories are anywhere from 8-15 minutes long each with an introduction to each story in between. This way you can control how long the listening time is. Sometimes I just broke up the listening time into 15 or 30 minute segments. The stories we listened to are:
1. The Blazing Furnace
2. The Handwriting on the Wall
3. Daniel and the Lions' Den
4. Elijah and the Prophets of Baal
5. The Prophecy of Jonah
Other volumes they have in the
collection
are: The Life of Christ, Beginnings, Joshua and Ester, Joseph and His Brothers, and their newest one Defeating Giants. If you order six or more volumes the shipping is free! We also received a sample CD of the other volumes. If you would like to hear
samples
just click on the "listen the audio clip" in the desired Bible version (to the right side of the volume title) and a download should pull up.
My son really liked listening to
The World's Greatest Stories
CD. He asks to listen to it every week. It keeps him laughing and smiling. He is remembering the stories and likes to try and sound like Mr. Sarris when he's being comical or the sounds get very dramatical when the situation gets intense. At times dad and I would even find ourselves laughing as well. This would make a great inexpensive Christmas gift or even a stocking stuffer. For more opinions of these stories stop by and see what other
TOS Crew
members had to say.

Disclaimer:
The views and opinions in this review are entirely my own. I was not paid to write this but received a "CD" free of charge to review, and give my honest opinion.