Does your child have problems with misspelling words when he or she writes? Do you often find yourself having to grab a dictionary to check the spelling of a word in your writing? I have something to share with you that just may come in handy for you.
From the makers of
See N Read
is a product called
See-N-Spell
. The See N Spell Spelling and Vocabulary Quick Reference Guide "is designed based on the 300+ most common vocabulary words used in the American English language. It helps support correct spelling and language function of the most common words used daily".

The See N Spell is a 40 page resource booklet. To help writers enhance spelling skills and expand academic vocabulary the guide is broken down into 3 parts:
1. It's arranged in alphabetical order and organized into the most common language functions for the word.
2. Includes the most commonly misspelled words, arranged alphabetically for quick reference.
3. A section for your own Special Interest Words for quick reference.
This guide is very easy to use because all the words are in alphabetical order. Writers just turn to the page with the letter that the word begins with, scan the page to locate the correct word, then copy the correct spelling. It's just that simple. The recommended ages are 4th grade to adult. The
price
for the See N Spell is $9.99.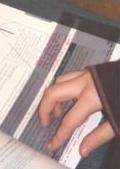 At the back of each
See N Spell
is a free See N Read
Reading Tool
. It is "a practical remediation tool designed to help readers see, focus, and remember what they read. It reduces word and line- skipping as well as pattern glare (words appearing to move on the page)". This in return will help enhance reading fluency and improve reading comprehension. Click
here
to read more about the purpose behind this handy tool.
My son used his
See N Spell
when he was practicing his spelling words. He really didn't find the words he missed in the guide. When he would write stories he wouldn't challenge himself to use more words that he didn't already know how to spell. Hopefully as he matures he'll get more use of it. I like having it around myself so it's still getting some use. The Reading Tool is great because sometimes he reads over words due to him reading too fast. He has trouble focusing when there is too much on one page and the grayed out areas helps keep him on track. Be sure to stop by the
crew blog
and see what others had to say.

Disclaimer:
The views and opinions in this review are entirely my own. I was not paid to write this but received a copy of See N Spell free of charge to review, and give my honest opinion.