AIMS
(Activities Integrating Math and Science) helps students in grades K-9th "to develop conceptual understanding using hands on Math and Science".
I'm back with another review product from AIMS. I was very pleased with the math review we did with them last year. You can read all about that
here
. Again we were given the opportunity to pick which product we wanted to try out with our kids. This time it was for science. As you browse around their online
store
take notice of all the different learning products they offer. The science book I chose to review is their Earth Rocks!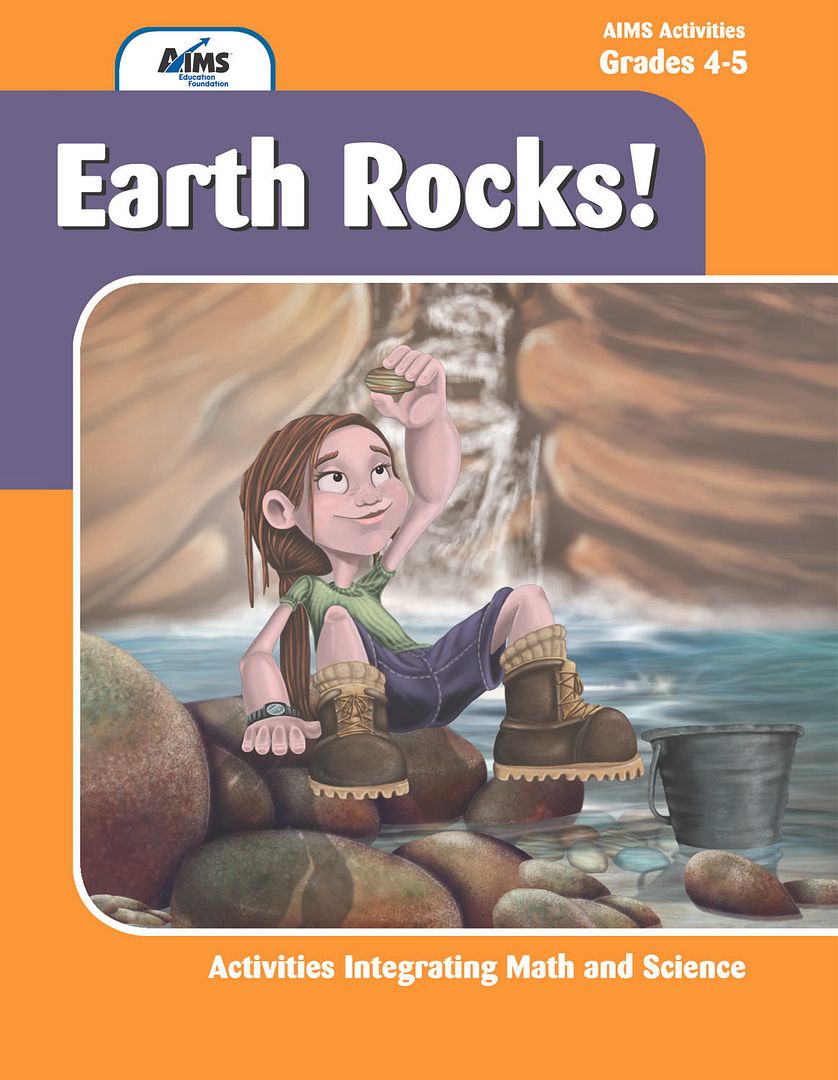 Earth Rocks!
is a 336 page softback workbook. The age range for Earth Rocks! is grades 4-5th. The cost of this workbook is $29.95. Inside you'll find a guide or important things the teacher needs to know before beginning each lesson as well as the activities. For the lessons you will find mini books that need to be put together, lab-work pages, and a worksheet with comprehension questions.
Click here
to see a preview of the book. There are 6 concepts/topics covered. Under each topic are a few subheadings giving you over 40 hands-on activities to do.
Here are the concepts/topics covered in "Earth Rocks!":
* Rocks & Minerals
* Soil
* Water
* Earth Changes
* Resources
* Pollution
I love that the book comes with a CD of all the worksheets (listed in alphabetical order) of each lesson in PDF format. Here are a set of the worksheets my son completed for one of his lessons:
The CD is stored in the back of the book in a clear pocket for easy access. While you are back there flip a couple pages back and you'll notice a list of all the supplies and equipment you will need to complete each activity.
AIMS
sells equipment on their website that you will need (for some lessons) in case you don't already have those items.
My son is really enjoying what he's learned so far in
Earth Rocks!
. Although he doesn't do well with answering the comprehension questions, he loves the hands on activities. He asks lots of questions during the lessons so that lets me know he's learning something. The lessons are not hard to do either. I find it helpful that they have the directions on the teacher's page before each lesson to tell you how to do each activity. Since my son is an only child we have skipped around lessons that require a group of students to complete but there was still plenty there for him to do.
AIMS
has a
Facebook fan page
where you can hear about new products and programs, get links to videos using some of their lessons, and more. You can request or download a free product catalog from AIMS by going to
this page
. If the option of downloading your products is more appealing to you, they do sell some of their material in
e-book
form.
Don't forget to stop by the crew blog to
read other reviews
and hear their opinions of their product of choice.

Disclaimer:
The views and opinions in this review are entirely my own. As a member of the TOS Crew I was not paid to write this but received Earth Rocks at no cost to me for review purposes, and to give my honest opinion.