When I was a kid in school I was not good at writing. You know the kind where you write stories, poems, ect. It was just too hard for me to get my thoughts together and write something that even made sense. I tried my hardest but I ended up with a C average anyway just for trying. My son struggles with writing too. I believe he knows what he wants to say but has trouble processing his thoughts to get it down on paper. My first year on the TOS Crew I reviewed
StoryBuilder cards
from the company I'm about to talk about in this next review. They really helped my son be creative in his writing and he still uses those cards to this day.
The makers of
WriteShop
has the goal of helping to inspire students to become successful writers. They offer quality writing resources for students in grades K-High School. The "engaging, step-by-step lessons presents students with the building blocks of the writing process". WriteShop focuses on "teaching the elements of style". The lessons go through the process of pre-writing, brainstorming, writing, and revising all to help edit and evaluate their work. They want to help students learn to develop strong paragraphs through choosing vivid, descriptive words and using sentence variations". Although "this is not a complete language arts program,
WriteShop
encourages growth and awareness in vocabulary, grammar, punctuation, and spelling". To learn more about the history of WriteShop's story go
here
. For our review we received WriteShop Junior--Book D.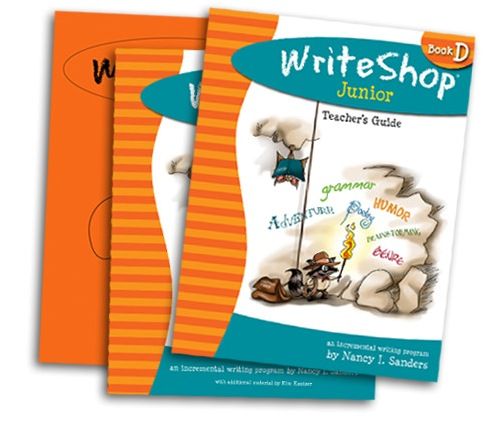 WriteShop Junior Book D
is a creative writing program that can be done with kids of different learning styles.
Book D
helps you "guide your children through the steps of the writing process". To make it fun, "every lesson includes engaging games and activities that teach and review important writing and self-editing skills". No matter if you have a more advanced child or one who is just beginning, this program is flexible so children can work at their own level.
WriteShop Junior is geared toward students in 3rd and 4th grades but also can be used with reluctant 5th and 6th graders whom may be struggling learners. The books are available for purchase as a hard copy or you can download the E-book versions. The price for the
Teacher's Guide
is $39.95 for the print version or $34.95 to download the e-book. The price for the
Activity Pack
is $39.95 for print or $29.95 for e-book. The price of the
Time Saver Pack
is $13.95 for print or e-book. This one is optional to buy but some may find it useful to have as part of the set. For review I was given a full set (everything I listed above). In this review I will be talking about the e-book (PDF) downloads because that is what I received for our review.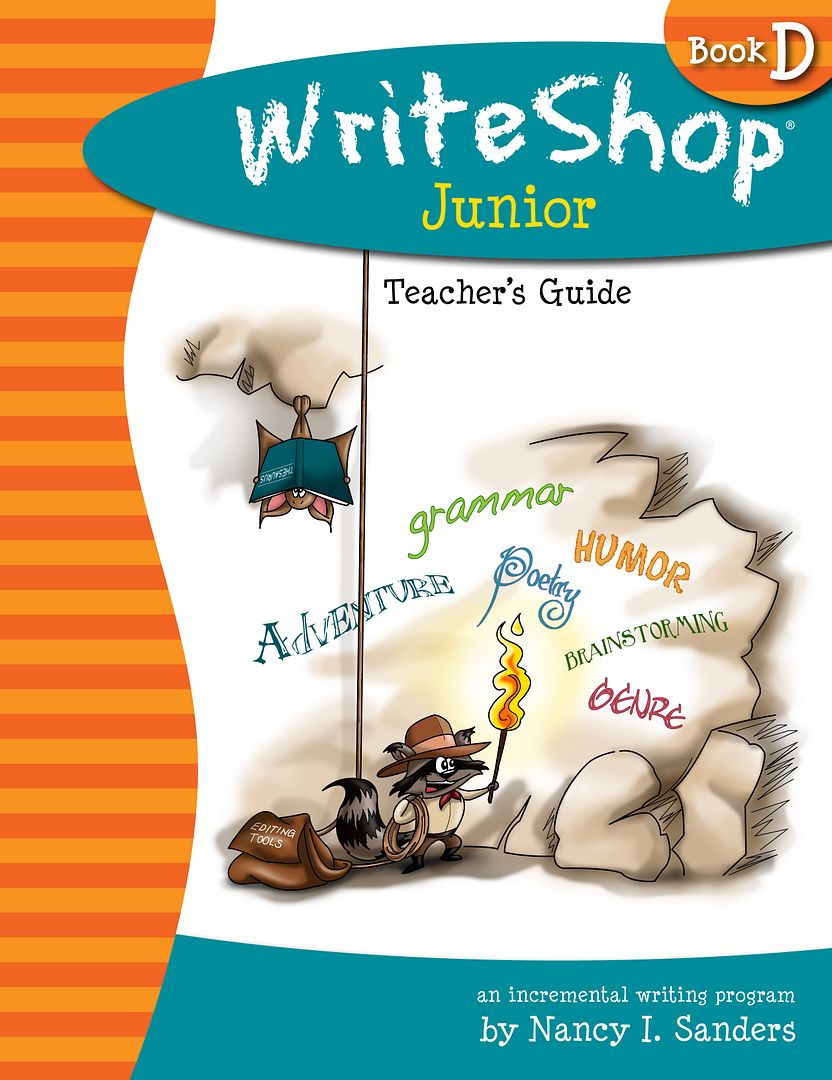 WriteShop Junior (Book D) Teacher's Guide
comes with all you need to know to understand and plan your lessons. When I first opened the download I was confused as to how to find different things I needed to read. All I saw was the front covers, the lessons, Appendix, and WriteShop Resources. I was thinking "surely I'm missing something here because I don't see the introduction I had read about in the instructions on another part of the program". It took me days to figure out I needed to look up at the top bar and click on "files" since it was in "layout" view. Once I figured that out I was like "okay now I can finally get going". When you get to the files section you'll notice there's the cover page, an introduction page then the guide is divided into 10 lessons, the Appendix, and Resources. All it takes is a double click on the one you want and it opens up in PDF format for you to view, save as, or print.
In the introduction you will get to understand the purpose of WriteShop Junior and find a planner to choose which weekly schedule is a best fit for you and your kids. There is also a breakdown of how to teach the lessons as well as any supplies you will want to have on hand. Believe me when I say "you don't want to skip reading over this section of the teacher's guide. Next you will want to open up the file for the lesson you are on. Starting with lesson one you will find the objectives, advanced prep, materials and supplies needed, and things required in order to complete the activities. Step-by-step it will guide the parent in how to implement the lessons. "This is not an independent course. The lessons are designed for the parent and child to work together." At this point I was doing fine until I got to the next part.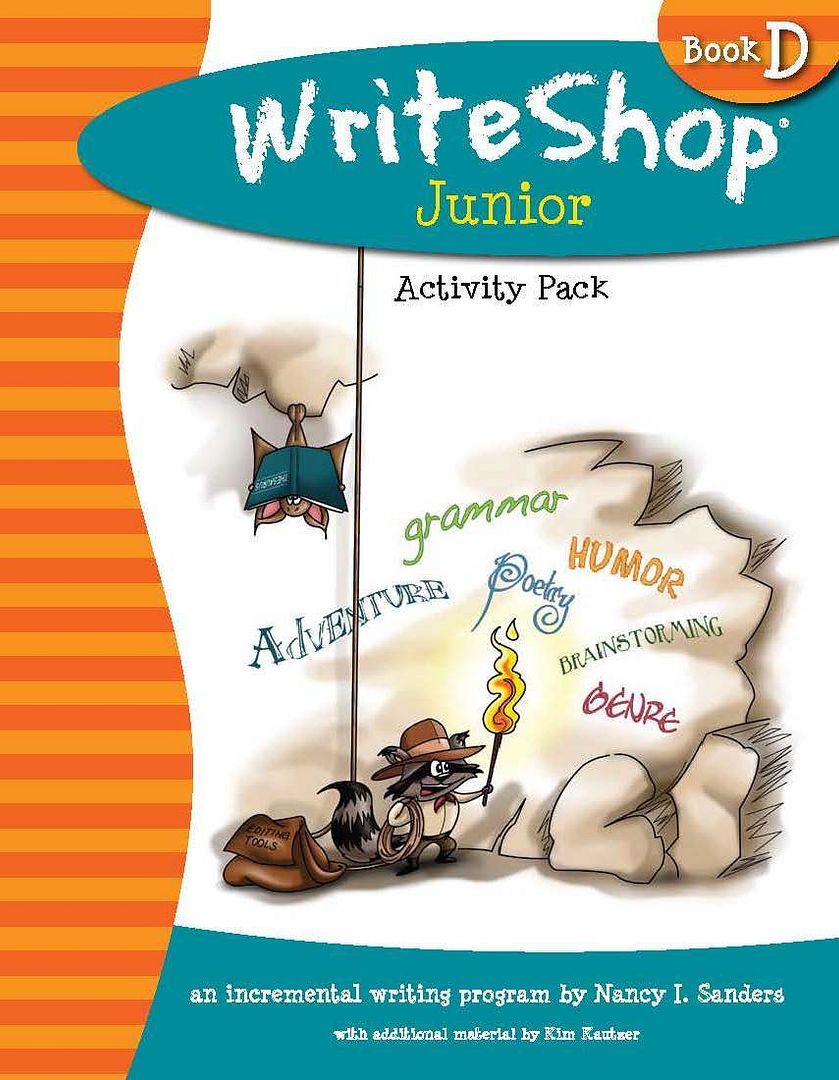 The
WriteShop Junior Activity Pack
is 144 pages. It is broken down into two sections. First is the Student Worksheet Pack and additional resources (reading log, journal pages, and evaluation charts). Here you will find reproducible activity pages your child will need to complete parts of each lesson. He or she will learn about brainstorming and self-editing as well. Here are pictures of what some of the activities look like.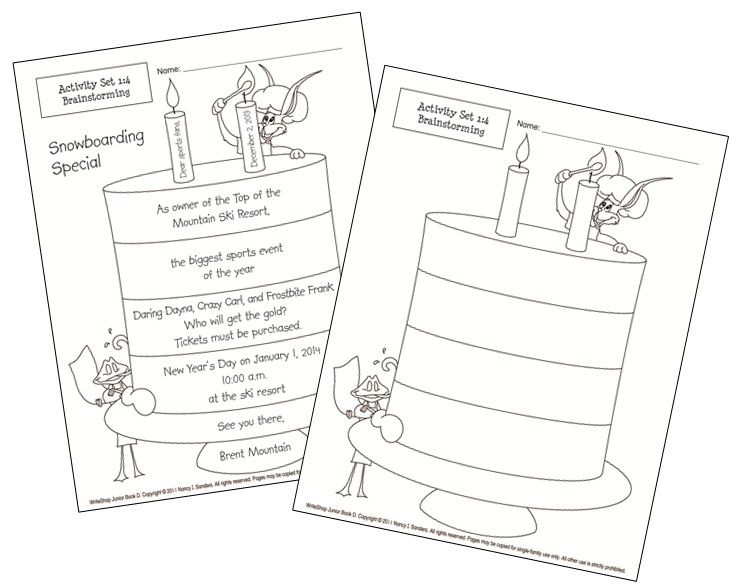 Next is the Fold-N-Go Grammar Pack. Halfway through this PDF you will find this section. I have to confess when I was trying to put the lesson plans together to get my son started on a lesson, I got so overwhelmed and frustrated because now I couldn't figure out where to find these Fold-N-Go's. I had already spent a few days trying to track down the introduction in the Teacher's Guide now I couldn't find these FNG packs to get the first lesson going. I wanted to cry because I had looked through this whole pack and couldn't figure out why I wasn't seeing anything. After a few days it dawned on me to stop scanning down the PDF and just go back to the table of contents to locate what page the FNG started on. Once I found it I was relieved but shaking my head at the same time. I mean I had looked through this thing like 5 or 6 times and didn't find what I was looking for. LOL
The Fold-N-Go Grammar "helps to review or introduce key grammar and writing rules in a fun and engaging way". There is a step-by-step tutorial of how to put the FNG together as well as bookmarks highlighting that lesson's grammar or writing skills. These can be laminated for long-term use. Following these are answer keys to the questions in the FNG lessons. To see some sample lessons
click here
.
What you are looking at here are some pictures of what we worked on.

The
WriteShop Junior Time Saver Pack
is optional but is useful if you want more fun activities and games to add to the lessons. This appeals to visual, auditory, and hands-on learners. Instead of you having to create your own game cards, spinners, and other tools you just print these onto card stock or sturdy scrapbooking paper to use with the activities in each lesson. There is a page with printing instructions that shows how many of each activity you will need to print, and suggested colors to print them on. The pictures above are some of the games you will find in this pack.
I must end this by saying I love
WriteShop Junior
! The only negative for me was that the instructions are not so clear at first glance. It took me a whole week of looking over the packs and reading everything over several times to figure out where things were and what to do for the lesson. Once I got more into putting the lesson together it began to make more sense and we were able to begin a lesson. We are enjoying the daily activities in this curriculum. My son says learning how to be a writer is fun.
Dear readers I have some exciting news to share.
WriteShop
has given me permission to offer a special discount to my blog readers! You can get 15% off any
WriteShop Primary
and
Junior
products in the
WriteShop store
(including e-books) using coupon code
CREW15
at checkout. If you want to buy any of these products for the upcoming school year, I suggest you hurry because the offer is only valid through June 15, 2012. Don't forget to stop by the crew blog. My crew mates got to review different
WriteShop writing products
so be sure to see what they had to share.
Disclaimer:
The views and opinions in this review are entirely my own. As a member of the Schoolhouse Review Crew I was not paid to write this but received a download version of WriteShop Junior Book D at no cost to me for review purposes, and to give my honest opinion.