Hello lovely readers. Here at Cross Rhodes Academy we are eclectic homeschoolers which means we utilize various learning methods. Recently we had an opportunity to review some "hands-on history" using
The Old Testament
from the
Activity-Paks
product line from
Home School in the Woods
. I believe doing hands on learning projects helps my son retain a lot of what he learns.
Home School in the Woods
is a hands-on history company, with multiple product lines. Its' president
Amy Pak
began homeschooling her kids in 1996. "History was a subject she was not thrilled about teaching until she came upon the idea of using timelines. She saw that the timelines would be a great visual resource to pull it all together." In 2002
Home School in the Woods
was born. This is when the first set of timeline figures where published. After that came many other "hands-on activities to make history fun".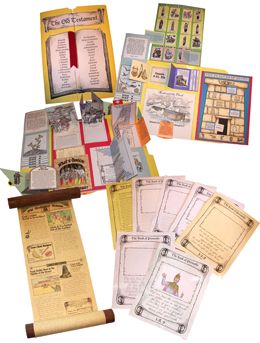 For our review we were given the download version of
The Old Testament Activity-Pak
. This Activity-Pak is available as a download for $18.95 or as a CD version for $19.95. It is Mac and PC compatible and is geared towards grades 3-8.
The Old Testament Activity-Pak
"takes you on a trip through the Old Testament and witness God's hand at work through amazing people and Providential events". There are 15 Lap Booking projects with chances for creative writing, coloring, research, Bible-study, ect. There are also two bonus activities included. The Old Testament Activity-Pak can be "used to accompany Bible study or along side your current History program".
Other types of
Activity-Paks
they offer are:
*
Make-A-State
- "Study any state in the U.S."
*
The New Testament
- "Follow the life of Jesus from His birth to His death and back to life again!"
*
Composers
- "Get to know 42 composers and their contributions from various periods".
*
Artists
- "Get to know 33 master artists whose styles spanned the centuries".
I was excited to do this review because we had already done
a review of The New Testament Activity-Pak
a few years back. My son really enjoyed it and still remembers it seven years later. My son is past the age/grade range for this. Since we begin our daily lessons with Bible Study, I knew this would be great to supplement what we were already doing in our Old Testament Biblical History studies. I first had to get myself familiar with the setup since it has been a while since we've used one of their Activity-Paks. After receiving an email with a download link, I did a right click on the file to download the zip files. This enabled me to extract the files so that all the PDF files where made visible. There is an "ap-ot" file there with the word "start" that I double clicked to open up a browser page with all the same activities that are on the PDF files I extracted.
I read through the Project Introduction and Directions to familiarize myself with the activities and to know what supplies we needed to get started. Reading through these are a must or you may become lost trying to figure out what to do. I liked that they included a photo gallery of completed projects so you would know what the end results should look like. There is also a quick tutorial on how to assemble the finished Lap Book. I moved on to printing all the Project Masters and bonus activities. I loved that all the file names were on the printouts. This was helpful when it was time to do a certain activity. I would have been lost without that as a guide.
Some of the project activities included in this Activity-Pak are:
* The Creation
* Noah and the Flood
* The Tower of Babel
* Sodom and Gomorrah
* Ten Plagues of Egypt
* The Ten Commandments
* The Fiery Furnace
* Major and Minor Prophets, ect.
We worked on 1-2 projects each day during the week. It took us 3 weeks to complete all the projects. On the front of the lap book we used blue felt for the ribbon because we had ran out of red. We spent 2 more weeks working on the bonus activities. They are The Old Testament Tribune and Proverbs copywork/illustrations. My son was having too much fun writing his Old Testament Tribune. He made up a name for his newspaper company and the different reporters responsible for writing the columns. He had his dad and I cracking up because he put lots of emphasis on the Bible stories and made it sound really dramatical when he read it out loud. When we did the New Testament Activity-Pak years ago we did not do the New Testament News activity. That was not something he was mature enough to complete at the time. Since he had so much fun with the Old Testament Tribune we will go back and complete the New Testament News too.
We have not had a chance to make some of the recipes that were included in the Fiery Furnace project. We plan to do that soon. Something new is being offered starting this summer. There is now an
A-La-Carte
option for buyers. Instead of having to purchase an entire unit you can select projects for topical studies. To kick things off in honor of the Erie Canal's 200th anniversary, head on over to
Home School in the Woods
to get your copy of the Erie Canal project. Be sure to use coupon code
alacarte
at checkout to get it FREE.
Home School in the Woods
offers so many different product lines to add a hands-on approach to a history study. Some of their other product lines are:
Thank you for taking the time to read my review. To read about other products mentioned above from Home School in the Woods, click on the banner below to see what my other Crew mates had to share.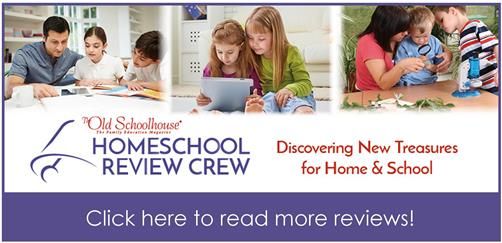 Want to learn more about Home School in the Woods? Be sure to visit them on these social media platforms:
*
Facebook
:
Tag:
@homeschoolinthewoods
*
Twitter
:
Tag:
@HSintheWoods
*
Pinterest
:
Tag:
@hsinthewoods
*
Google+
: +Homeschoolinthewoods
*
YouTube
: